Got kids? Put This Family Festival On Your Bucket List
Three days, a packed line-up of activities, and quality time with the kids
You've no doubt heard the buzz about the third annual Wolfie Familie Festival, which takes place from Friday, 21 February to Sunday, 23 February 2020. This excitement-filled weekend of camping (and glamping), fun activities, shows and music will be one the kids (and adults) will never forget. Plus, it's the perfect setting for families to bond, children to make new friends and parents to connect.
We asked organiser Melanie Rontgen to tell us what to expect from this family festival.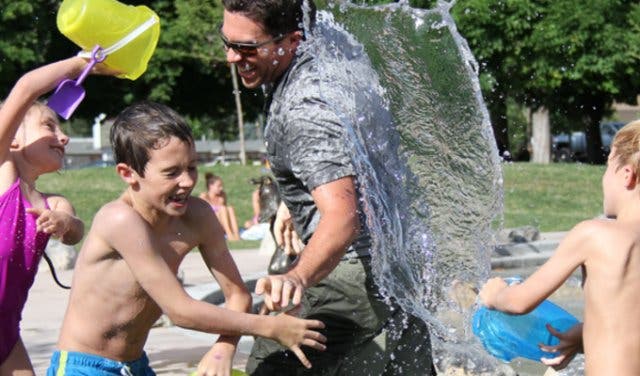 FIRST OF ALL, WHAT IS WOLFIE FAMILIE FESTIVAL ALL ABOUT?
It's a three-day family-orientated festival set on the banks of the Olifants River at Wolfkop Camping Villages. The weekend is about spending time with your kids in a fun and activity-packed outdoor setting. There are activities all day for kids and adults to join is on - yoga, magic shows, swimming, canoeing, hiking, and much more.
The venue is only a two-hour drive from Cape Town, in Citrusdal, so it's a great road trip to take with kids. We are best known for our popular Wolfkop Weekender festivals and events. Because this is one of our smaller events, and it is aimed at the cubs of the family, we named it Wolfie (Afrikaans for small wolf).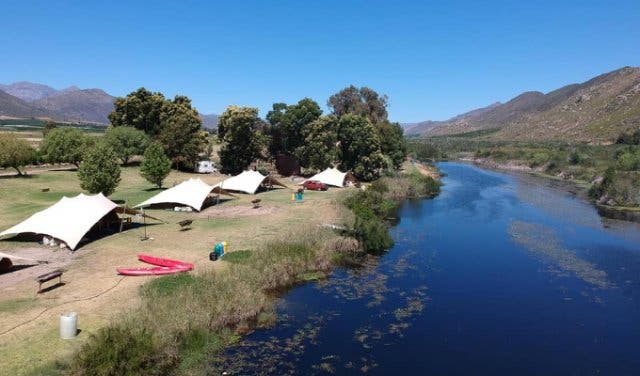 TALK US THROUGH A DAY AT THE FESTIVAL
Each day has different things going on, but they're all packed with cool stuff to do. Friday's programme runs from 9am to 11pm, Saturday 7:30am to 11pm, and Sunday starts at 7:30am and ends at 3pm. On Saturday, you might start at the fun park, rock climbing wall, or animal garden - they open at 8.30am.
You could also join a guided hike, or take part in a mini 2km trail run. At midday, Leigh the Mime and Louis the Juggler will dazzle the kids. Then there's a magic show at 4pm, an LED show by The Psychedelic Theatre at 8pm, and it's lights out at 11pm - to make sure you're well-rested for the secret sunrise family dance.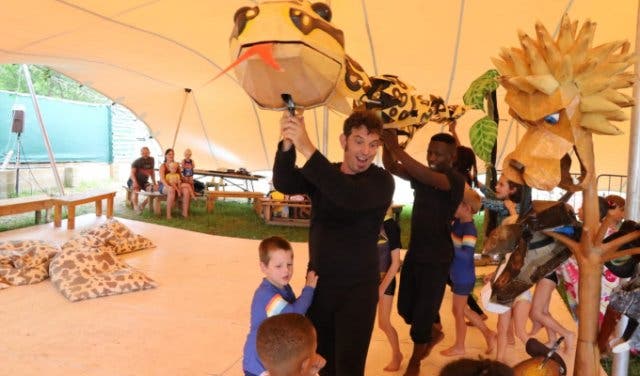 In between all that, you could head for the river with your floaties, or even book a spot at the Healing Daydream Wellness Spa. There are pop-up theatres, giant bubble-making stations, live music, kiddies' craft activities, magic shows, talent shows, and in the evening you can stargaze with Superman. You can see the full weekend programme online.
WATCH: WHAT HAPPENED AT WOLFIE FAMILIE FESTIVAL 2019

WILL MY 3 KIDS AGED BETWEEN 3 AND 12 ALL ENJOY IT?
The younger ones will enjoy the arts and crafts tables, the animal garden (where they can pet a bunny or a goat) or making giant bubbles. The older children usually spend a lot of time by the river, but they'll also love the rock climbing wall.
WHAT DO KIDS AND PARENTS LOVE MOST ABOUT THE FESTIVAL?
Definitely the river! There are plenty of water activities, such as a slip 'n slide, and canoeing. You're also welcome to bring your lilos and floaties and set sail on the river. Don't forget to pack your cossies and life jackets or inflatable armbands.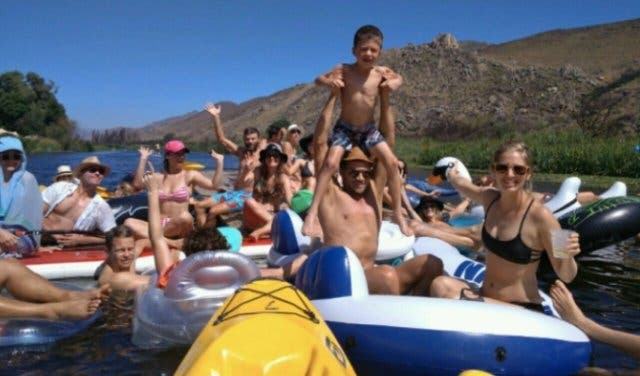 THERE ARE NO NO BABYSITTERS, SO HOW DO PARENTS RELAX?
Parents will enjoy joining in on many of the activities, including the morning guided hikes and family yoga, plus there's the secret sunrise dance. It's also a great opportunity to spend some quality time with your whole family - how often do you get the chance to spend a weekend with other parents and kids, packed with activities to keep everyone happy and busy?
You also don't need to spend the weekend worrying: there will be medics and lifeguards on-site and your phone number will be on your child's wrist band.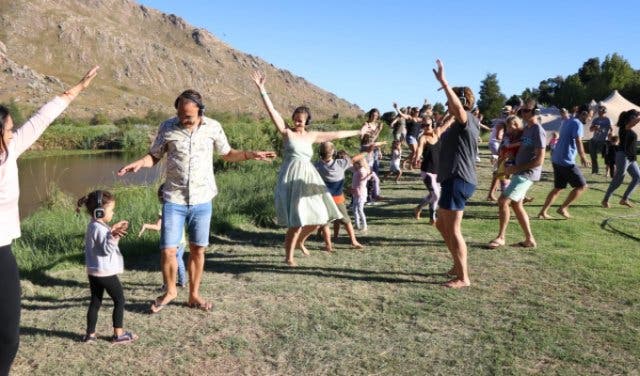 WHAT IS THE ACCOMMODATION LIKE? DO GUESTS HAVE TO CAMP?
Many families bring their own camping gear, ranging from basic tents to caravans. If you prefer, there are also glamping and comfy camping packages available for the entire weekend for groups of up to eight people. Packages include various combinations of tickets, tents, mattresses, bedding, Bedouin tents for shade, furniture, lights and bean bags. You can select and book your package online.
If you want to stay somewhere else close by and come for the day, you can book a spot at the Wolfkop Nature Reserve cottages and purchase a BYO ticket, which will give you access for the three days of the festival if you would like to drive in and out.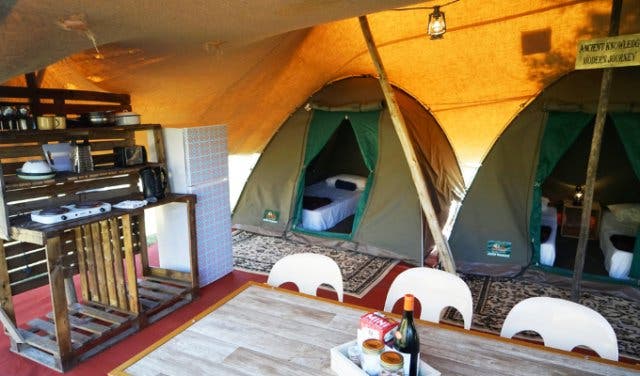 WHAT FOOD AND DRINK WILL BE AVAILABLE?
Most families bring their own food. There will be dedicated braai zones with drums and grids, as well as communal fridges and kitchens. We recommend packing your own food and drinks and self-cater throughout the weekend. If you're not up for food prep after an eventful day, there will be food vendors you can grab a bite from.
You are allowed to bring your own alcohol, and a bar service will run all weekend, selling coffee, smoothies, juices, and water. There will also be ice for sale, so you can restock your cooler and keep the drinks ice-cold.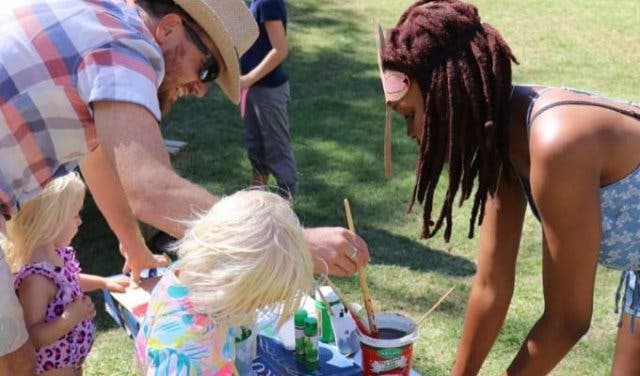 TICKETS TO THE WOLFIE FAMILIE FESTIVAL
There are various ticket packages, ranging from BYO camping tickets for the weekend, priced at R350 for children and R700 for adults, to group camping villages (complete with mattresses, linen, and lighting) for up to R12 400. There are many ticket options to suit your needs and budget, and they can be booked online.
By Daryn Wood
---
Spend some time with the little ones with these things to do with kids as well as free and cheap things to do with kids.


Bond with your family and friends during a camping trip at these amazing camping sites.
See what else is happening on the weekend and what you can get up to in February.

---

Use our events section for an up-to-date overview of what's happening in the city, suburbs and dorpies. Join our newsletter and add us to your mobile home screen for the ultimate guide to discoveries in Cape Town.
Follow and like us on Twitter ❤ Facebook ❤ LinkedIn ❤ Instagram ❤ Pinterest for updates.

---