(CANCELLED) A giant eland, gumboot dancing and international flavours
Celebrate the music, dance and art from our country
NB. this event was cancelled as a Coronavirus precaution.
The Cape Town Carnival is a street parade that highlights the diversity of Cape Town and South Africa. On Saturday, 21 March, performance groups, magnificent floats, gigantic puppets and flamboyant costumes will bring the Green Point Fan Walk to life. Spectators can watch from the sidewalk along the 1.2km parade route or cheer from the stands and VIP section.



EXPECT TO BE DAZZLED
The theme in 2020 is "Incredible Journey: Sounds of South Africa", which aims to highlight the music, dance and art of our country.

The crew and 2000 performers from over 50 talented community-based groups have been designing floats, making costumes, choreographing moves, and syncing melodies.

One of the many floats you'll see includes a giant eland sculpture inscribed with symbols to suggest artistic expressions of the early Southern African peoples; sounds accompanying the float includes a bow-harp, played by Glen Arendse of Khoi Konnexion.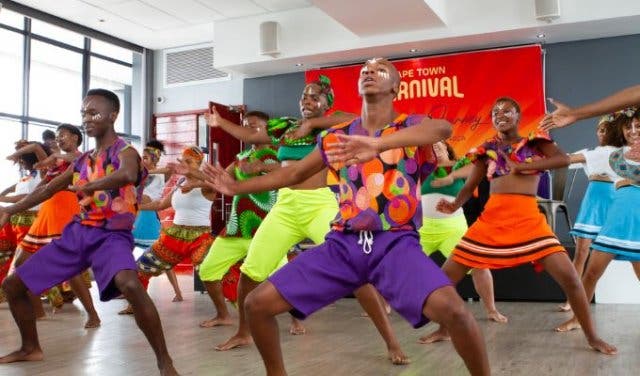 Dance! Entergy in motion is a segment showcasing a blend of dance styles including the ATKV Riel champions performing traditional Riel dance as well as gumboot dancing by Phatizwelethu, Masizakhe, Masi Creative Hub and IthembaLabantu.

You'll also see a float and performance inspired by isiZulu, isiXhosa, seSotho and Ndebele dress styles, patterns, colours and shapes. The performers include Mali Drummers and Bulumko High School in Khayelitsha as well as lead performances by Mxolisi Gontsana, Odwa Mangqibsa, Tyron Zoutman, Neziswa Tose and Ncumisa Shumi.



Cape Town is a diverse city and all cultures will be on show and celebrated. The Chinese community of Cape Town will perform a dragon dance while Jhoomkar Traditional Indian Dance group will dance to traditional gorba music. The Portuguese community will delight with their distinctive 'bailinho' inspired performance, and the Aphrodite & Northern Lights group will bring traditional Middle Eastern movements to the streets with belly dancing.

To top it off, there will be bars and food vendors stationed throughout the designated areas, see map below.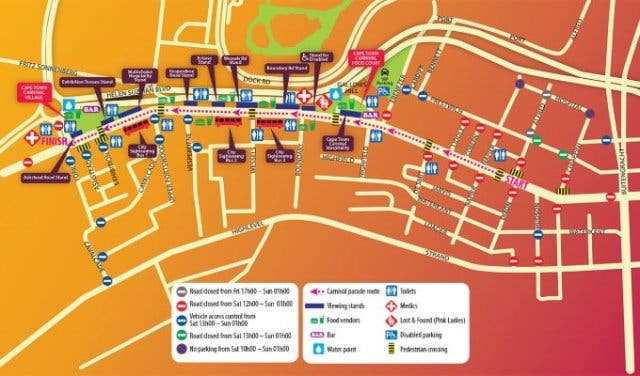 ROAD CLOSURES AND FREE BUS SERVICE
Schedule enough time so that you can get to the carnival on time. There will be parking in the city or at the V&A Waterfront, and you can catch a free MyCiti bus between Cape Town Stadium Station and Civic Station every 20 minutes from 4:30pm–6:30pm and 10:30pm–12 midnight. The N1 Inbound will be closed between the R300 and Durbanville interchanges, so use the R300 and N2 to get to the city bowl. Roads will also be closed in Green Point.



ATTENDING CAPE TOWN CARNIVAL
Attending the carnival is free, but you may book a seated ticket on the stands that offers a bird's eye view, or a hospitality ticket to the exclusive VIP area on a raised viewing platform with a private bar, DJ, snacks and more. Tickets are R350–R1390 and can be booked online.
Keep your spirits high with a selection of annual music festivals.
Entertain the kids with plenty of things to do with kids and free and cheap things to do with kids.

---
Use our events section for an up-to-date overview of what's happening in the city, suburbs and dorpies. Join our newsletter and add us to your mobile home screen for the ultimate guide to discoveries in Cape Town.
Follow and like us on Twitter ❤ Facebook ❤ LinkedIn ❤ Instagram ❤ Pinterest for updates.